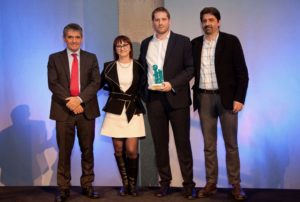 In occasione di "Oscar della stampa", l'evento di premiazione delle aziende d'eccellenza nel printing italiano, che si è tenuto il 22 novembre presso il Museo della Scienza e della Tecnologia di Milano, la giuria di esperti selezionati dall'organizzatore Stratego Group ha conferito a Pixartprinting il premio "Industry 4.0 Printer of the Year 2017".
L'azienda veneta specializzata nell'online printing ha percorso la strada dell'automatizzazione dei processi fin dai suoi esordi (nel 1994), e oggi annovera un team di ingegneri e sviluppatori che progettano e aggiornano costantemente software gestionali che processano le informazioni e consentono il monitoraggio in tempo reale dei singoli step di ciascun ordine, dal preventivo fino alla fatturazione.
"Siamo stati tra i primi a offrire servizi di stampa online, e da subito il nostro obiettivo è stato ottimizzare i processi – ha commentato dal palco della premiazione Federico Gonzalez, marketing & sales director Pixartprinting. Nel corso di questi anni abbiamo dato vita a nuovi mercati e siamo fiduciosi che ne creeremo altri anche nel prossimo futuro, come sta avvenendo adesso per etichette e packaging".