Vespa parte in tour tra le capitali d'Europa. The Sound of Europe Tour è il nuovo evento che ha come prima tappa Berlino e porterà lo stile e la musica di Vespa anche a Milano, Amsterdam, Parigi e Madrid. Nelle cinque tappe Vespa porta in tour e il suo stile: musica e divertimento, con i test ride di Vespa Elettrica e i temporary store per gli appassionati di questo brand intramontabile.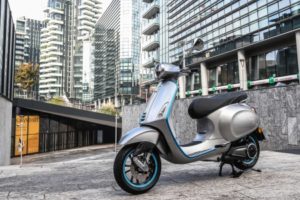 Ricco il programma di attività di engagement: nelle tappe di Milano, Parigi e Amsterdam gli eventi saranno animati dai concerti dei DJ Merk & Kremont.
Tutta la vasta gamma Vespa è protagonista del tour, ma ha il suo posto d'onore Vespa Elettrica, che sarà esposta nei temporary store come una vera opera d'arte su due ruote, connubio tra classicità delle forme e tecnologia eco-friendly. Vespa Elettrica sarà disponibile anche per il test ride per consentire di provarne maneggevolezza, guida facile, ripresa brillante e, non meno importante, l'autonomia (fino a 100 km).
LE 5 TAPPE DEL TOUR
Berlino: dal 18 al 25 maggio – Mall of Berlin
Milano: dal 31 maggio al 9 giugno – Triennale e Piazza del Cannone (Live DJ Set 8 giugno – Giardino della Triennale)
Amsterdam: dal 14 al 30 giugno
Parigi: dal 5 al 21 luglio
Madrid: dal 13 al 29 settembre